Just in case my own nerdy take wasn't enough for you:  I'm going to gather here just a few links to eclipse reactions from minor celebrities in the world of science communications (that's what I mean by sci-comm, of course).  
If I come across more, I might add more.
+ + +
Derek Mueller runs Veritasium, "a channel of science and engineering videos featuring experiments, expert interviews, cool demos, and discussions with the public about everything science."
 Some months ago he had an exchange with Dianna Cowern of PhysicsGirl, which he made public recently via Twitter as "evidence of before and after."  Cowern is in gray and Mueller is in blue:
"Particles line up. Big deal."
Here's the Veritasium episode that he filmed during the eclipse.  Still no big deal?
Mueller writes:
As the moon passed in front of the sun turning day to night and revealing the sun's corona, apparently all I could think to say was 'Oh my goodness!'
 + + +
 My kids (and I) are big fans of Smarter Every Day, which is produced by Destin Sandlin.   Sandlin's best work involves high-speed videography, of things like jellyfish stings and exploding glass drops.  
Before the eclipse he issued a couple of videos with tips about what to look for and photograph during the eclipse:
Clearly, Sandlin didn't have the "no big deal" attitude, but he still wound up more excited than he expected.  Along with photographer Trevor Mahlmann, he traveled to the only location in the U. S. where it was possible to watch the transit of the International Space Station across the sun at the same time as the eclipse.  Here's his video -- in which it is revealed that this extraordinarily precise camaraman was so blown away, he forgot to remove some of his lens caps.
+ + +
Finally, here's the incomparable xkcd, drawn by Randall Munroe: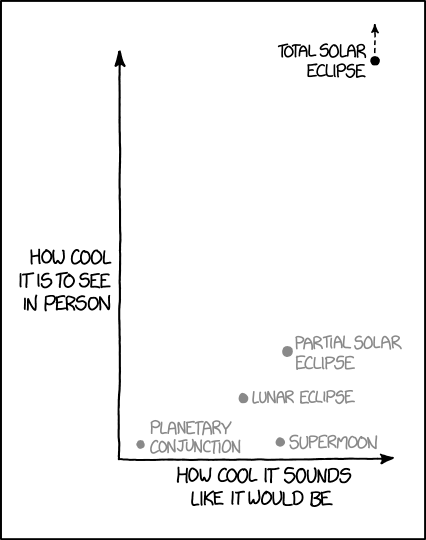 Munroe's mouseover caption:  
I watched from a beautiful nature reserve in central Missouri, and it was--without exaggeration--the coolest thing I've ever seen.
I wasn't far away, and I agree.